We asked 300 Canadian company managers and/or owners to rate levels of employee job satisfaction and turnover at their companies.
Companies with EAPs experienced:
9% lower levels of employee anxiety, dissatisfaction and turnover
5% higher levels of growth and developmental opportunities
4% higher levels of meaningful work
This sounds great for your employees but what does it mean for your bottom line?
We studied 8,000 businesses and found that engaged employees led to higher retention, customer satisfaction, productivity and profit. In fact, we found that engaging work environments generate $3,800 more profit per employee!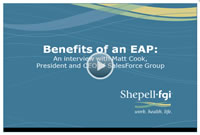 View the video to find out why a small business chose to offer EAP to its Employees.
Contact us to find out more about Priority EAP and how it will benefit your company.